Hey guys! So, my avatar and signature are still birthday-themed, which really bothers me xD I decided to change it to a winter theme, but I had problems editing.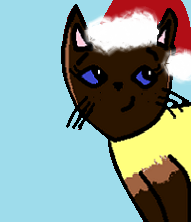 That's what I have so far, but I really want a snowflake in that blank area. I tried a thousand times to add one, but no matter what I did, nothing would work. I'm a fail.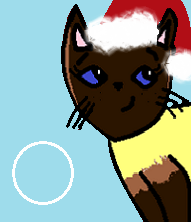 The white circle represents where I want the snowflake to be. Do you think someone could help me? I'd really appreciate it. :)
Thanks,
Glimmer
Edit: This should probably be moved to the Help Corner, right? :P
Last edited by Glimmerpaw on Wed Dec 03, 2014 2:16 pm; edited 2 times in total (Reason for editing : woops)
Deputy




Age

: 15


Herbs

: 368


Posts

: 3480


Fresh-kill

: 18076


Join date

: 2013-05-11



It probably should be moved
Anyway, I don't really know what you need. Are you bad at drawing snowflakes, or is the snowflake just not showing up, or what…?
Warrior






Age

: 15


Herbs

: 380


Posts

: 14278


Fresh-kill

: 46977


Join date

: 2013-09-07



You don't have to draw a snowflake. You can just find a clipart of one, make the background transparent, resize it, and slap it in. :3 (I'm terrible at drawing snowflakes too. What on earth is up with those things???)
Survivor





Herbs

: 223


Posts

: 1740


Fresh-kill

: 6708


Join date

: 2013-05-10



The snowflake wasn't showing up at first, but I got it now. I kind of forgot the "make the background transparent" part; I use MS Paint, which is a really horrible program, so I had to download a different program that would allow me to make it transparent more easily.
At first, I had just gotten the clipart and pasted it on there, but it wasn't transparent and it ruined the picture, so...I just gave up xD I fixed it now, thanks for your help!
Deputy




Age

: 15


Herbs

: 368


Posts

: 3480


Fresh-kill

: 18076


Join date

: 2013-05-11




---
Permissions in this forum:
You
cannot
reply to topics in this forum