I don't normally watch anime.
But the anime style is hilarious, amazing, and a ton of fun to work with.
Let's try taking it to the next level! Would an extended anime style parody work in a joke RP?
I'm gonna set some ground rules so you get what this is.
. Any characters are welcome (OCs included!) as long as they are not from an anime or manga. That just kinda defeats the purpose.
. Tryyyyyy not to add characters who come from anime-style franchises? (Pokémon, Vocaloid, etc) I'm not gonna enforce this one too heavily. Just make sure your guy will be able to act in an exaggerated anime style and it not feel too awkward or close to source material.
. Feel free to go into detail describing anime-esque stylistic choices.
. You may exaggerate, ignore, or even add things about your character not accurate to their source material. Wanna add Robin? Give him multiple forms!! XD
. Big hair is welcome.
. Big muscles are welcome.
. Big big big eyes are welcome.
. Big light projection-type attacks are welcome.
. Remember, this is an experimental joke RP. No serious plot lines that just happen to be anime-style. The entire joke is the anime parody. Go to town with it! Cliche plot points, phrases, visual quirks, character design, abilities, fight scenes, everything! Exaggerate the living cheese out of it!
.
You don't have to be consistent with their in-battle powers. In fact, try not to be! You can list a few base ones, but if you can make Bob the Tomato suddenly fire an unexplained flurry of explosive grenade tomato juice splotches that blow mile-deep craters in the ground, then never uses this ability again, I would be so happy!
Character form:
Name:
Where they're from:
Gender and species:
Appearance:
Personality and traits:
Abilities:
(Tragic) Backstory:
Changes from source material (optional):
Other:
I shall begin. Wiiiiiiith......hmmmm......
Name: Durfishulus
Where they're from: Joke fan-Pokémon, ETF (Roseh's brilliant brain! Unless Roseh doesn't want me using her brilliant creation. XD)
Gender and species: Male, Durfishulus, Pokémon
Appearance: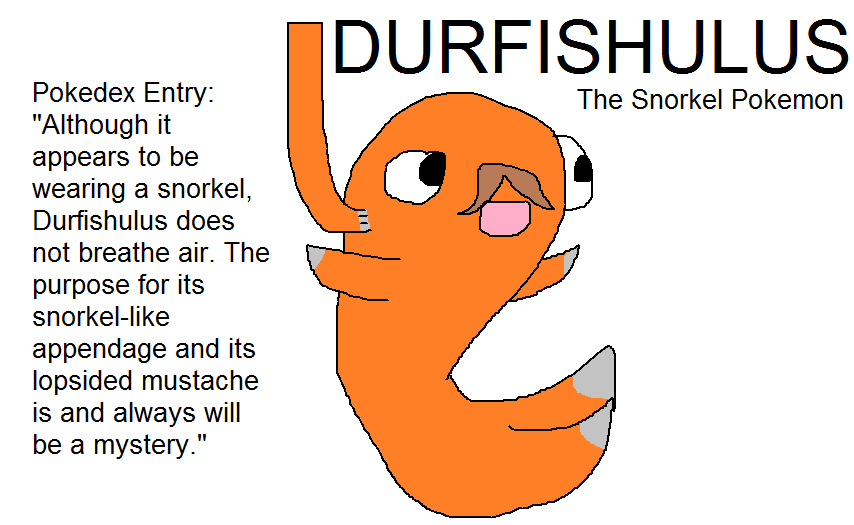 Except his mustache is spikier and blowier and is dyed bright neon blue.
Personality and traits: Broody and sulky. Young and inexperienced, clumsy, struggles to find his way around. Highly values his honor.
Abilities: Flying through air and water, hand-to-fin combat "Fins of Fury", multi-burst energy projectiles "Light Rain of Destiny", single ultimate death beam which can be charged up "Gonaburoyuappah". Can achieve Mega Evolution in dire situations. Is training to achieve Hyper Mega evolution. Perhaps one day, "Super Ultimate Universe Hyper Mega Singularity Evolution of Ultimate Hope and Righteousness".
(Tragic) Backstory: Is an outcast in his school (FISH PUNS HAHAHA) because his magnificent blue-dyed mustache isn't as large or magnificent as his peers, has lost both his parents in the Great War when he was an egg, grew up under his Fishu Sensei (rest in peace) learning to fight, and is basically dead inside.
Changes from source material (optional): Just added stuff to his original brilliant profile.
Last edited by Stealthy on Sun Jul 17, 2016 10:35 am; edited 2 times in total (Reason for editing : Added new rule.)
Character list:

Stealthy
- Durfishulus

Tornadostorm
- Flint

Jewelsky
- Papyrus
Last edited by Stealthy on Sat Jul 23, 2016 2:12 am; edited 2 times in total
Durfishulus woke up in a field of cherry blossom trees, with their petals blowing in the wind. He gasped and looked around, wide-eyed. There were others with him! As he looked about the unconscious bodies, he thought.

"Wh....where am I? This can't be right! I'm not supposed to be here!"

He gasped. Sudden realization hit him. His eyes bulged.

"Wait! I know why I'm here! I remember...the evil Overlord! His goons must have taken me here! But what about these others...?"

*PSHING!*

"It's them! THEY took me here! They've been working for him all along!"

He fired an energy projectile at each of them, briefly launching them skyward.

"WAKE UP!! I know it's all your fault! I know who you're working with! COME ON, COWARDS!"

*Saturated linework, framed pose of angry Durfishulus, bulging veins*

"CHALLENGE MEEEEEEEEEE!!"
Name: Flint
Where they're from: Kattacus (OC)
Gender and species: Male, Kattaca
Appearance: White anthropormorphic  cat with red hair, down to just above his shoulders in the back, and with long bangs slightly longer in the front that over one eye completely. He has dark grey eyes, and a dark grey star on the tip of his tail. He also has large beautiful wings that he can fold on his back, or flare out and fly with.
Personality and traits: to be desided RPed out
Abilities: Some yet to be discovered (Not to be used here until used in Crossovers) Has tail beams he can use by swiping his tail at an enemy, causing a silver homing beam of light to fly at it. several magical super powerful punches and kicks that send enemies flying up to halfway across the planet
(Tragic) Backstory: He was a happy child, then went on a journey with his dad, and his dad turned evil, betraying his son, and the whole group traveling with them. This led to Flint having to confront his dad one night, and in the battle, Flint's dad died. This perminantly scarred Flint, and he's been broody and shaken ever sense. 
Changes from source material (optional): Bullet, Flint's dad, never turned evil. He was taken control of, and killed by Flint soon after being taken over. It still did scar him though.
He has no 'Tail Beams', or exageratedly powerful punches. While he does punch, and his punches have magical qualities, as well as he uses his tail in battle, he uses his tail more as a knife.
Other: There's allot more that would be perfect to add to this RP, and I will add later on, but I don't want to spoil it for those on the Crossover RP with me.
_____________________
₮◊Яи∆∂◊$₮◊Яᄊ ∂∑קЦ₮ץ ◊モ ¢レ◊Ц∂¢レ∆и

You all are my Friends and I Love you very much <3Check Out my Art
(My email is available to the left of the screen under my rank. Feel free to use it if you need/want to contact me and I'm not online. 99% of the time I'll see it right away)
Deputy




Age

: 19


Herbs

: 142


Posts

: 4990


Fresh-kill

: 21311


Join date

: 2013-06-02



((Let's do this.))
((
Name:
Papyrus
Where they're from:
The game
Undertale
Gender and species:
Male skeleton
Appearance:
His typical in-battle sprite:
An overworld sprite of an especially anime-esque pose I assume he'll be making quite often:
Additionally, here's the link to his tarot card:
http://vignette4.wikia.nocookie.net/undertale/images/6/68/Papyrustarot.png/revision/latest?cb=20160422222825
I imagine that in this RP, his scarf will be very exaggeratedly long and billowy. I also imagine he'll be able to flex his bones as if they were muscles. Also, his eyes will probably be epic anime ninja warrior eyes or something. I don't know. xD
Personality and traits:
Papyrus is kindhearted and never fails to see the good in people, even when they go on huge murder sprees (and, in about the only Undertale AU I actually like [it's called Handplates, by the way], torture him and his deeply cherished brother) for no apparent reason. However, he's very self-centered at the same time, often referring to himself as "THE GREAT PAPYRUS." (I assume that'll be quite fun in this RP.) Despite his quirkiness, he has a strong dislike for puns (he's so innocent that I refuse to claim that he hates anything). Also, though he certainly can be less than observant at times, he loves puzzles. He's a hard worker who sets huge goals and is… *ahem*…
determined
to accomplish them. He's ESFJ.
Abilities:
It's implied that Papyrus has the potential to be as strong as his older brother, Sans (I've listed Sans' abilities on the Crossover thread and I'm too lazy to type them all down here again)—however, he doesn't want to kill anyone and holds back to prevent anyone from getting seriously hurt. He'll likely use extremely flashy attacks, though. Ones that don't kill anyone, of course. But I can imagine he'd be quite capable of creating attacks solely for their aesthetics. He's also skilled at creating/solving puzzles and seeing the good in others at all times.
(Tragic) Backstory:
Nobody knows where he came from. He probably doesn't even know where he came from. He and Sans just showed up, and nobody questioned it. (I couldn't give him a tragic backstory, because if something is bad enough to count as a tragedy to him, it's not going to be anything I could take as a joke.)
Changes from source material:
I made his appearance and attacks and whatever more fitting for this lovely anime RP.
Other:
He always speaks LIKE THIS, no matter what. He's the only character in the game who never uses asterisks while he speaks.))
((PLEASE FORGIVE ME FOR USING ANOTHER SKELEBRO.))
Warrior






Age

: 15


Herbs

: 380


Posts

: 14278


Fresh-kill

: 47296


Join date

: 2013-09-07



(It's cool, as long as he is sufficiently jokey and exaggerated for the RP. :D)

---
Permissions in this forum:
You
cannot
reply to topics in this forum