HEY PEOPLES. This is the thread where you're encouraged to relentlessly pelt the members of
#Majiskull
(a band of OCs by Misty and I) with questions and other things. You may ask any of them basically anything, no matter how pointless, and possibly even ask them to DO THINGS. >3
Let me introduce the band, for anyone who isn't familiar with them (Note: On-stage, they wear elaborate costumes, which are pictured on the left side of their concept arts)-
Samantha Pearce (Stage name: Skull)
- Leader and drummer of the group.
Mandy McKenna (Stage name: Spikey)
- The bassist. Considered the band's gentlest member.
Alexa Bonucci (Stage name: Dragonette)
- Their lead guitarist. Loves "dark" things, and can be a bit of a troublemaker.
Gabby Leclair (Stage name: Dinogirl)
- The lead singer and rhythm guitarist. Energetic, mischievous, and scrappy.
Again, you may ask any one of these characters (or any combination of them) anything. >:3 I'll be handling Samantha and Alexa's questions, while Misty will be handling Mandy and Gabby's questions, as those are the characters we created, respectively. As for questions directed to certain combinations (such as Samantha and Mandy), it could be either one of us who draws, but both of us will give input.
OK I THINK THAT'S IT
ASK AWAY :D
(PS: You don't even need to wait for the last question to be replied to before posting yours, so go nuts. >:3)
(PSS: I almost forgot to mention that, some time before this thread was made, our mum asked the band "question
#0
". She questioned if they owned a cowbell, and one
has been confirmed to exist
as a part of Sam's drum kit. *The more you know*)
Last edited by Whitefeather on Sat Jan 12, 2019 3:41 am; edited 4 times in total
Head Guard





Age

: 22


Herbs

: 213


Posts

: 7996


Fresh-kill

: 22115


Join date

: 2013-05-31



OK OK THIS SO SO COOL

I have a question 8D


Alexa, Mandy, have either of you worn your stage attire to a costume party?
_____________________
₮◊Яи∆∂◊$₮◊Яᄊ ∂∑קЦ₮ץ ◊モ ¢レ◊Ц∂¢レ∆и

You all are my Friends and I Love you very much <3Check Out my Art
(My email is available to the left of the screen under my rank. Feel free to use it if you need/want to contact me and I'm not online. 99% of the time I'll see it right away)
Deputy




Age

: 19


Herbs

: 147


Posts

: 5048


Fresh-kill

: 22432


Join date

: 2013-06-02



@Tornadostorm

wrote:Alexa, Mandy, have either of you worn your stage attire to a costume party?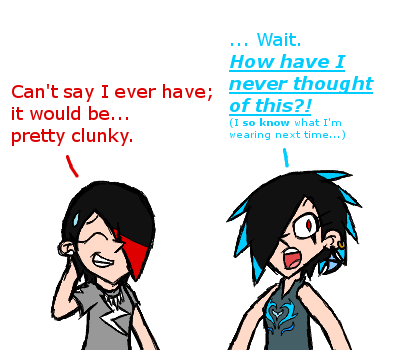 (Drawn by me, with input from Misty on Mandy's part)
(Since this was the first one, I spent more time on it. Future ones will probably be much more doodly. xD)
Head Guard





Age

: 22


Herbs

: 213


Posts

: 7996


Fresh-kill

: 22115


Join date

: 2013-05-31




---
Permissions in this forum:
You
can
reply to topics in this forum